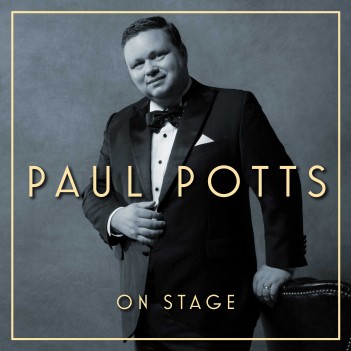 ON STAGE IS OUT NOW
---
It's ten years since Paul Potts became the first ever winner of Britain's Got Talent in front of a record breaking 12 million viewers,
'On Stage', Paul's fifth studio album, is a collection of songs that have either inspired or been performed by Paul in leading roles – from Broadway to the West End – during his extraordinary career.  To mark the 10-year anniversary of Paul's performance on Britain's Got Talent, the opera superstar includes a new rendition of Nessun Dorma as the final track on his new album.  Plus, with his current brand partnership with Pot Noodle notching up close to half a million views in less than week, Paul Potts is proving that he's still as popular as ever.
Now Paul Potts celebrates a sparkling decade at the top with the release of his most ambitious album to date. 'On Stage' is an epic album majestically interpreting x15 songs from musicals which have either inspired or been performed personally by Paul. It includes Impossible Dream from The Man of La Mancha, Till I Hear You Sing (which Paul says is "from the underrated sequel to Phantom of the Opera, Love Never Dies, which has great passion and power"), Bring Him Home from Les Misérables, and a vulnerable rendition of Send in the Clowns from A Little Night Music.
'ON STAGE' TRACK LIST
Impossible Dream (The Man of La Mancha)
Stranger in Paradise (Kismet)
Bring Him Home (Les Misérables)
If I loved You (Carousel)
Send in the Clowns (A Little Night Music)
Love Changes Everything (Aspects of Love)
'Til I Hear You Sing (Love Never Dies)
Mit Gewitter und Sturm (Flying Dutchman)
Recondita Armonia (Tosca)
E Lucevan le Stelle (Tosca)
Some Enchanted Evening (South Pacific)
Tonight (Duet, West Side Story)
Somewhere (West Side Story)
If Ever I would Leave You (Camelot)
Nessun Dorma (Turandot)
---
HOME IS OUT NOW
Download from iTunes / Buy from Amazon
---
'Home', a collection of 15 songs, sees Paul embracing his love of music of all genres. Working with long-time musical director Chris Taylor, Paul has made a record without rules, one that celebrates the beauty of the song and the power of the voice.
Songs by Richard Marx, Spandau Ballet and George Harrison sit alongside pieces by Musumarra & Pintus, Chopin, and De Curtis & Furno. Sting's 'When We Dance' is translated into Italian to become 'Quando Balliam''; the familiar 'Beyond The Sea' is returned to the original French of Charles Trénet & Albert Lasry's 'La Mer'. Elsewhere he continues to challenge the concept of genre by performing songs by Foo Fighters, Guns N' Roses and The Eagles while also relishing the operatic tours de force of Un Amore Così Grande and L'ora Dell'Addio. "There are no rules saying what you must like – music connects with your very soul, and the genre is irrelevant. I wanted my choices on 'Home' to challenge the concept of the necessity of genre." The album opens with 'Quando Balliam'' – "'When We Dance' has a real Latin flavour which made me decide to perform it in Italian. I loved the feel of the song on Sting's 'Symphonicities' album, in its broken down form with light percussion and subtle melodies." A staple of Paul's live set, 'Non ti Scorda di Me' talks of the passing of summer, before the simple beauty of 'The Best Of Me'. "In today's world, with all its conflicts, I think it is even more poignant that love can cross the divides" Paul says of 'Through The Barricades' "It's a great track that I hope I have done justice to." Popularised as 'Beyond The Sea' by the likes of the Rat Pack and Robbie Williams, Paul has taken the song back to its original chanson La Mer (the first time he has sung in French) saying "I think the lilt of the tune matches its original language better; its phrasing is intoxicating." Another tour favourite 'L'ora Dell'Addio' has tenderness and power in equal measure while on 'Something' – "a great love song with a great feel" – Paul hits the highest note he has ever recorded (a top D flat). The simple and passionate 'Tristezza' is an arrangement by Paul and Chris (Taylor) based on Frederic Chopin Etude. The power of 'Un Amore Così Grande' is followed by the beautifully tender 'I'm Yours and 'Il Mio Miracolo' – both live favourites – before Paul's recording of 'Desperado' "You have to be careful with iconic songs, and I hope that I have done justice to this Eagles classic." Paul continues to surprise with 'November Rain' – "I worked hard to give the song what it deserved.  Guitarist Tim Maple has done a fantastic job with that epic guitar solo – I was insistent on keeping the longer of the two guitar solos in, and it sounds fantastic!" – before closing the album with the soothing 'Home'.